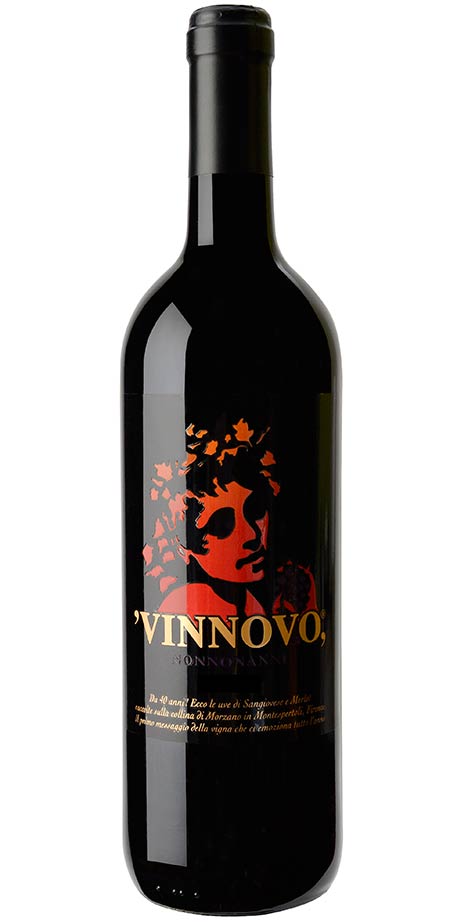 The grapes and the Vineyard

In October 1975 the first Vinnovo in Italy obtained through the carbonic maceration of Sangiovese and Gamay, grapes harvested on the hill of Morzano (Montespertoli, Florence). Since then awaited and always punctual .. the first message of the vineyard that excites all year.
The wine

Bright and bright purple red wine with violet hues. The nose expresses freshness, the inebriating and vinous scent recalls the autumn vineyard. In the mouth it is simple and overwhelming, joyful and with a good acidity.
Wine easy to drink, suitable to accompany, according to the Tuscan tradition, chestnuts (burnt or ballotte).
.
Grapes: Sangiovese and Gamay
Production area: Montespertoli
Vineyard area: 8.5 ha
Vineyard altitude: 300 mt. slm
Soil type: clayey schist
Training system: Spurred cordon
Density per hectare: 3,500 - 5,000 stocks
Annual production: 420 hl
First year of production: 1975
Vintage available on the market: 2011
Harvest period: early September
Vinification: For 50% carbonic maceration and for the remaining traditional vinification
Alcohol: about 12% vol.
Total acidity: 4.8 g / l
Dry extract: 25.8 g / l
pH: 3.2
Serving temperature: 12 ° - 16 ° C